NPO Colorbath has implemented a glocal ICT-based interaction program with the participation of students and teachers in Malawi.
With its wealth of knowledge related to web interaction, since 2012 Colorbath has carried out web-based interaction projects linking classrooms around the world. With many schools boosting online learning and other remote systems due to the impact of Covid-19, our educational program leverages this effort to enhance interaction with schools abroad.
On Thursday October 15, 2020, our web-based interaction program "DOTS" connected students at Tonda Junior High School in Shunan, Yamaguchi Prefecture, with students at Kaphuta Primary School in Malawi via Zoom. Eleven third-grade members of the Student Council Executive Board at Tonda Junior High School (JHS) and six eighth-grade students (equivalent to second grade at junior high school in Japan) from Kaphuta Primary School in Malawi participated in the program.
In the project, online interaction is scheduled to take place five times, three times between students from the two schools and twice between teachers. Within the framework of the project, the Japanese students will introduce various activities unique to Japan, such as student council and committee activities, and also share classroom management techniques. The purpose behind having the students, as the key actors, share their views rather than the teachers presenting their views from an educational perspective, is to motivate the teachers and students in Malawi to try out efficient classroom management techniques for themselves.
The students of the two schools have interacted once so far. The objective of the program is, first of all, for the students to get to know each other and build a relationship of trust. Since it was the first opportunity for both groups to chat online directly with foreigners, they looked relaxed but a bit nervous before Zoom was launched. The instant Japan and Malawi were connected, however, there were screams of delight and excitement. In particular, when the Japanese students introduced themselves and the Malawian students called them by their names, it made them smile and shout with joy.
When the introductions were finished, Tonda JHS students explained the Student Council system and their individual roles to the Malawian teachers and students. For Japanese, there is nothing exceptional about student councils, but few schools in Malawi have such student-led organizations or activities, so they listened attentively and made notes.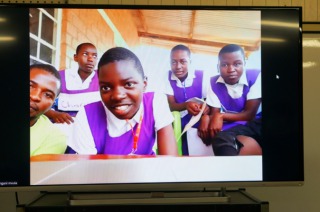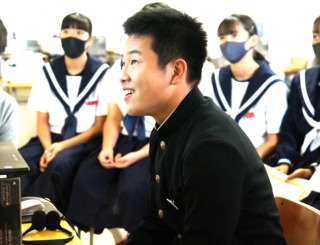 For their part, the Malawian students explained the role of the bell-ringer, the student who rings the bell at the start of lessons and at lunchtime. As Malawian schools have no PA system like in Japan, the bells do not ring automatically, so a bell-ringer rings the iron bell in the school playground to signal the start and end of lessons or break time. When Tonda JHS students heard this, they were very surprised at how different the school environment was from their own.
While the students were chatting, the battery for the Malawian students' computer unexpectedly ran out of power and communication was temporarily interrupted. After that, however, one of the Malawian teachers joined the Zoom meeting on his smartphone and the students were able to resume chatting. The teacher explained that there had been a series of power outages in Malawi the previous day and they had not been able to charge the battery sufficiently. It came as a surprise to Tonda JHS students to learn that power outages occur on a daily basis.
The unexpected happenings during the interaction gave the students an insight into an environment that was completely different from their own. Even in this age of smooth dialogue between people in different countries without any time lag, communication may be cut off or the connection may be unstable. While this may be a bit annoying, understanding the background to such events is a big learning opportunity and a chance to find out things you never knew about the other person's situation. It is a feature of Colorbath's activities that we enable discoveries and broaden the horizons of both Malawians and Japanese by turning unexpected happenings into learning opportunities. Unexpected events are seen as important learning moments for Japanese.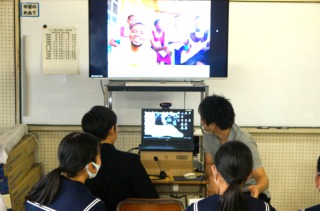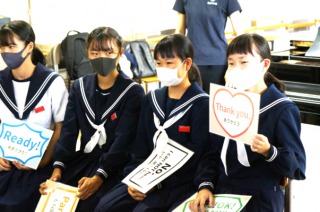 It was the first time for the Japanese students to explain to foreigners in their own words about the School Council and committees, activities which are familiar to every Japanese student. By interacting in this way, they were able to discover in a fun way that what they took for granted was not necessarily taken for granted in other countries and to gain a new appreciation of the significance and appeal of Japan's extracurricular activities.
Colorbath will continue to leverage ICT to enable interaction between students and teachers in schools in Japan and Malawi. We will continue to work with the Shunan City Board of Education to bring hands-on learning and the results of this project to as many people as possible.