What is EDU-Port Japan?
EDU-Port Japan is a public-private initiative to introduce Japanese-style education overseas which is gathering attention world wide.
In the field of education, Japan has great potential to contribute to the world.
For example

"Primary and secondary education system" that builds excellent academic skills as well as manners and morals
High quality "math and science education" "Cram school" "ICT Education"
"Industrial human resource development" in institutes of technology and specialized schools

However

These contents had been introduced overseas only by "individual organizations."

Therefore

EDU-Port Japan is a "public-private, nationwide" initiative to proactively introduce Japanese-style education overseas by providing a platform from in which the public and private sectors collaborate in achieving this objective. The platform is supported by the Ministry of Education, Culture, Sports, Science and Technology (MEXT), the Ministry of Economy, Trade and Industry (METI), the Ministry of Foreign Affairs (MOFA), the Japan International Cooperation Agency (JICA), the Japan External Trade Organization (JETRO) and many other organizations including NGOs and private businesses.
Our Activities
A public-private collaboration platform
Project formation
Development of the models
Delivering Information

Public relation and promotion
Home page and Facebook
e-mail magazine

Symposium

Expert Committee

Steering Committee
Board meeting
Supporting matching

Consultation on overseas expansion

Consultation on overseas expansion

Arranging School Visit
Pilot projects developing models for introducing Japanese-style education overseas

A total of 66 projects had been implemented

Posters of Pilot Projects(March 2021)

※Implementation period : 2016 – 2020
Introduction of curricula and teacher training system
Adaptation of textbook
Introduction of KOSEN (institute of technology) system
Operation of overseas office of universities
Overseas expansion of education companies etc.
Our Logo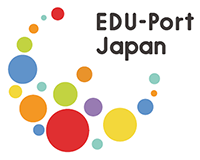 The main concept is "Richness"
By organically placing different colored circles, the design illustrates the richness of the heart, where we focus not only on "studying", but also a diverse education where we can enrich children's culture and morals.
The colorful circles represents how different colors and cultures of each countries are respected on introducing Japanese-style education, meaning that Japanese style-education is never forced to any context. By doing so we can truly achieve the enrichment of every nation. These circles also represent the rich nature of Japan, which change its colors through out the four seasons.
The circles formulate an even larger circle. It represents our hope that the chain reaction of both good aspects of Japan and other countries can lead to the economic and spiritual enrichment of every nation.
Lastly, the set of circles are inline to create the letter "E", symbolizing our project, EDU-Port.