Case Study: Teacher Education in Cameroon
Background of the project and introduction of activities
Since Naruto University of Education has participated in projects in South Africa in 1999, we have been continuously dispatching short-term experts and accepting trainees. Until now, more than 1,000 JICA trainees have been accepted, of which 29 participated from Cameroon at Naruto University of Education.
In Cameroon, these JICA returnee trainees are conducting lesson studies on science and mathematics at pilot schools in elementary and middle schools in order to introduce a curriculum based on * competencies.
* Competency: The ability to use complex psychological and social resources including not just knowledge and abilities but also skills and attitudes to respond to complex demands (tasks) in a specific context.
Having the background, the project of Naruto University of Education was selected as 2018 EDU-Port Japan Supported Project. In this project, we are aiming for the improvement of the learning of Cameroon children by supporting and deepening the "Lesson Study that Promotes Learning among Teachers" approach that has been practiced and effective in Japan. The main focus is on science and mathematics education, which has accumulated Japanese knowledge and highly regarded worldwide.
In addition, we are taking various opportunities to share the experiences of this project with in-service teachers and international education cooperatives in order to internationalize education in Japan.
Specific examples and results of activities this year
First of all, in Japan, we introduced the project to those who participated in the training for in-service teachers in Tokushima Prefecture in August and the license renewal training in October to promote the internationalization of Japanese education
In Cameroon, we visited a pilot school in Yaounde city from October 29 to November 5, 2019 with the elementary and secondary school inspectors and observed a class after lesson study based on the study of teaching materials. In addition, we monitored the quality improvement of science and mathematics classes for actual children. The number of schools we visited was three primary schools and two secondary schools, with a total of less than 100 spectators, faculty leaders and teachers participating.
The teachers of the elementary and secondary schools planned the research lessons in a group, and then conducted the research lessons. The research lessons were based on the Cameroonian curriculum and reflected the elements of pedagogy, such as the writing plan on the black board and lesson plan, which JICA returnees learned in Japan. In an attempt to apply classroom learning to everyday life, questions setting and solving in many classes are in line with everyday life. Extensive exchange of opinions was also held at the follow-up meeting. Finally, we advised the faculty members through the inspectors and supported to improve the quality of lesson study.
We will visit Yaounde again on February 15-22, 2020.
The good points of Japanese education and the lessons learned from Cameroon
In Japan, all children are distributed with textbooks based on the curriculum, and teachers also plan lessons based on textbooks, instruction books, and various reference books. It is structured so that student-centered classes are conducted by teaching and learning according to textbooks.
On the other hand, in Cameroon, even if the curriculum changes, textbooks have not caught up with it, teachers are planning classes somehow based on old textbooks. I have realized again how wonderful free distribution in textbook revision and compulsory education are, which are common in Japan.
What we felt when we visited Cameroon is the children's strong willingness to learn. We were impressed by the fact that children focus on learning even in the environment of more than 100 students in one classroom, and a shortage of textbooks and teaching materials. In order to respond to the children's willingness to learn, we felt again the importance of improving lessons through lesson study based on teaching material research.
Future aspirations and possibilities for expansion to other countries
In Cameroon, lesson study is being rolled out from a pilot school in the city of Yaounde to all over Cameroon, which is a tribute to the leadership and efforts of JICA returnees.
Naruto University of Education will continue to work closely with the returning trainees in Cameroon to provide support while regularly visiting the site. While considering the conclusion of cooperation agreements with relevant ministries of the country, we would like to pursue the possibility of cooperation toward the realization of high-quality education for children in the country.
We will also continue to accumulate knowledge on international cooperation in teacher education including this project, and make sure to provide feedback on international cooperation projects and educational activities related to the University.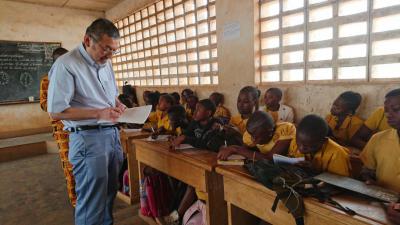 Research lesson at elementary school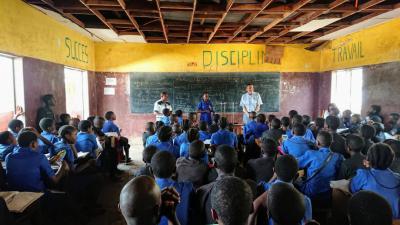 Research lesson at secondary school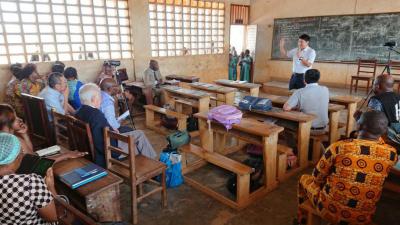 Follow-up meeting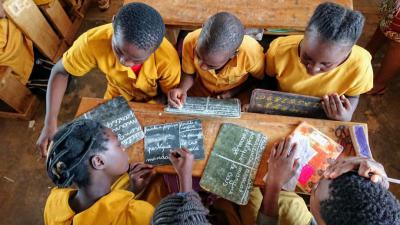 Small writing board instead of notebook
(2018 EDU-Port supported project: Naruto University of Education)