Project Overview
Through the development and dissemination of a STEAM education curriculum for young children incorporating features of Japanese early childhood education as represented by 'learning through play', Gakken Holdings Co., Ltd. (Gakken) is implementing a new project aiming to contribute to improving the quality of early childhood education in Vietnam.
Since the adoption of the project in November 2021 as an EDU-Port Japan Supported Project, activities have been going ahead in collaboration with our local project partners, one of the largest kindergartens in Vietnam and KiddiHub Education Technology (KH), an education-related company. We would like to share some of those activities below.
Development of the STEAM Program
We are developing the Gakken STEAM Program (GSP) for kindergartens in Vietnam. Vietnam is promoting the introduction of STEAM education, but the fact is that there are few programs aimed at preschoolers that are both systematic and of good quality. Gakken will develop a program themed on science and programing that contributes to the acquisition of logical thinking and expressive ability, which are the foundation of learning, and will respond to the need for the dissemination and introduction of STEAM education.
In developing the program, with the cooperation of KH, we conducted online and offline interviews with a wide range of people, including kindergarten principals, teaching staff and parents, to identify specific needs and issues. While laying the groundwork through the development of a program themed on science and programing, at the same time we are carrying out research together with our project partners with an eye to the future expansion and enhancement of program content.
Training of Teaching Staff
Gakken's undertaking does not stop at simply providing GSP to kindergartens. We dispatch instructors who, on the basis of well-crafted teaching plans, explain how to proceed with the program, and what features are to be seen in Japanese-style education and teaching, where value is placed on 'learning through play'. In order to offer a program through which young children can enjoy learning, teaching staff are required to be highly skilled. At present, teachers' training is being undertaken that combines the theoretical with the practical.
Collaboration with Universities and Research Institutes
For the effective implementation of the project in Vietnam, we are promoting collaboration with universities and research institutes. During a business trip to Vietnam in April 2022, we actually visited universities and research institutes to exchange opinions on issues and prospects related to STEAM education and kindergarten/preschool teacher training. We are also discussing specific details of collaboration with each institution.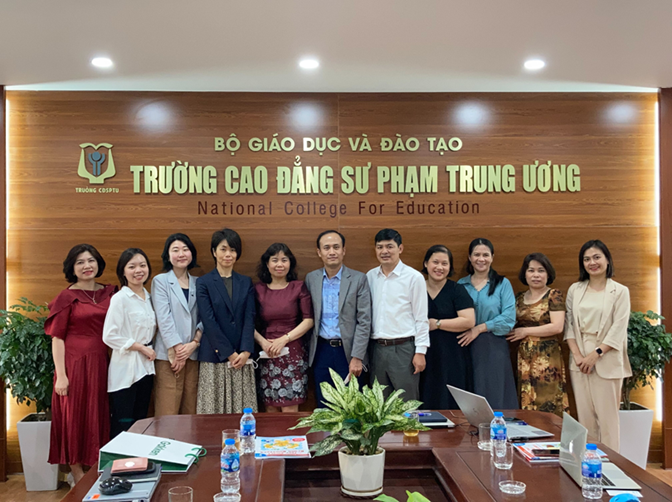 Visit to the National College for Education, Hanoi City, on 7th April 2022
Looking to the future
Despite the restrictions on our activities in Vietnam due to the COVID-19 pandemic, the April visit was fruitful for our team members. Through our daily meetings with members of our project partners KH and through our visits to local kindergartens we felt keenly the expectations of the local people. Going forward, we will make the most of EDU-Port Japan in launching the full-scale operation of the project which is scheduled from autumn this year, and in the publicity and branding of the project, and will hold various events.
*In November 2021 Gakken signed a memorandum of understanding (MOU) with KH, and in April 2022 concluded a capital tie-up contract with them.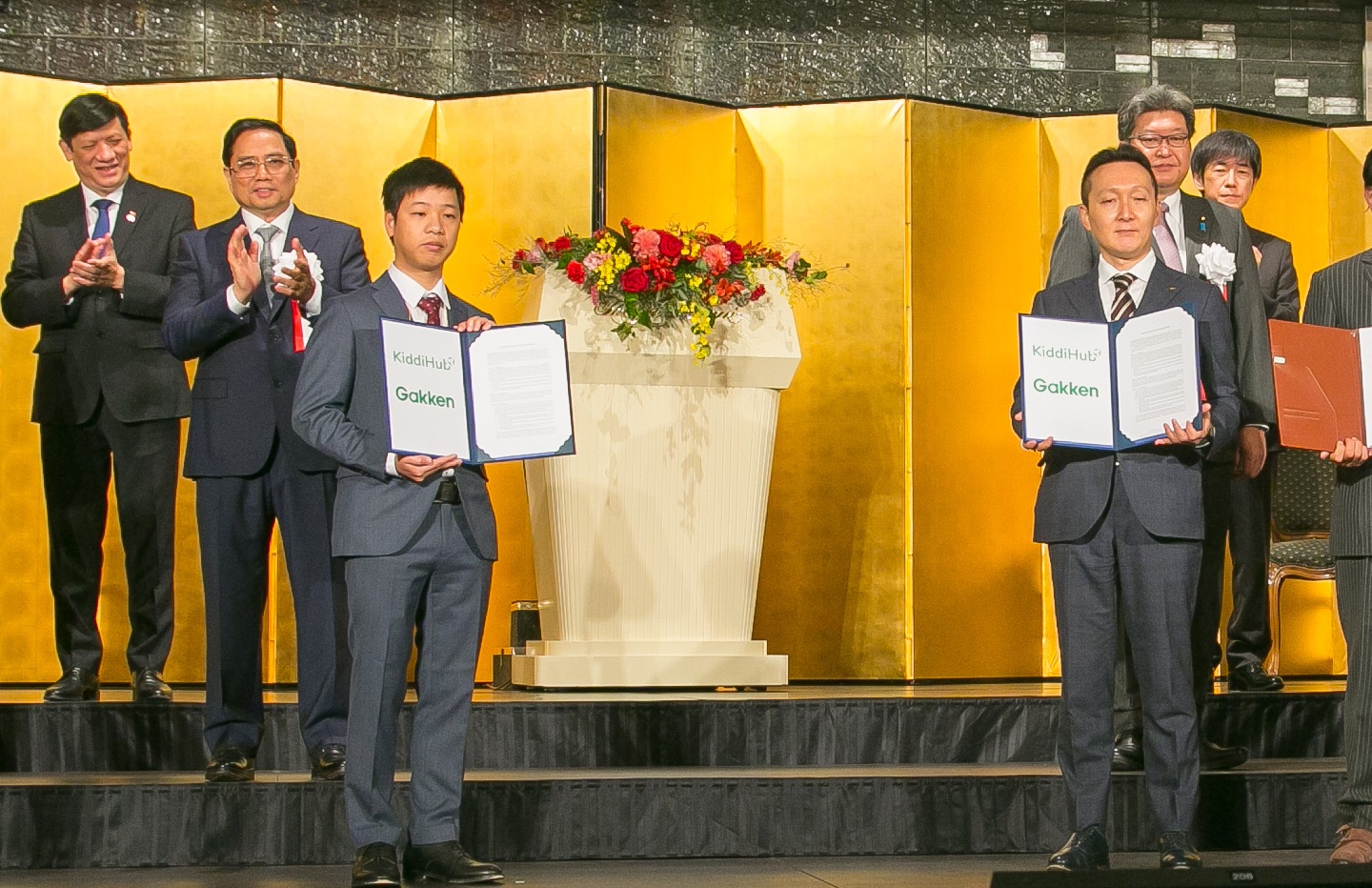 25th November 2021, in Tokyo:
MOU signing ceremony at an investment conference attended
by His Excellency Pham Minh Chinh, the Prime Minister of Vietnam
(Front left: Mr. Nguyen Huy Thang, Chairman of KH,
Front right : Mr. Kenji Momota, Director of Gakken)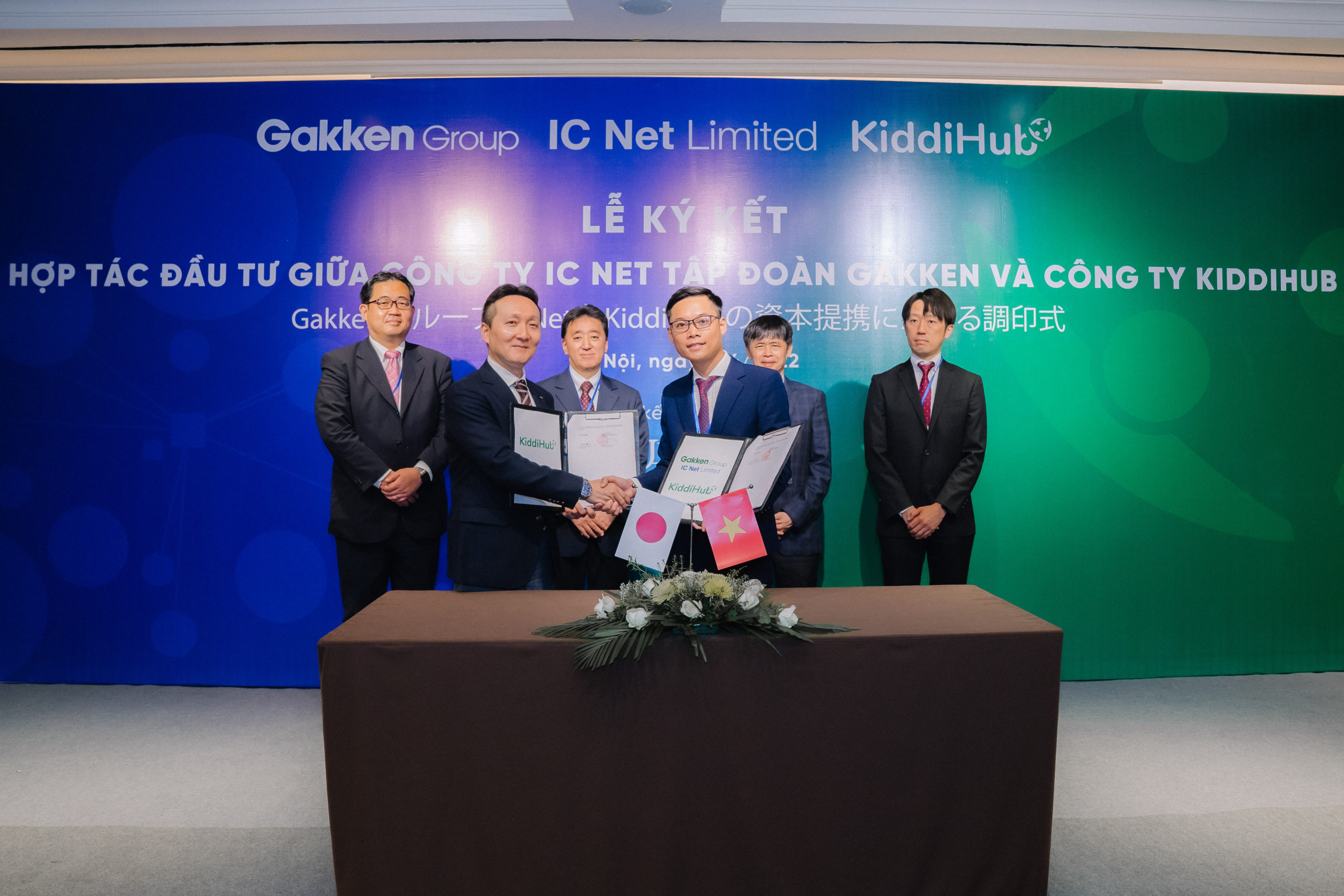 8th April 2022, in Hanoi City:
Capital tie-up contract signing ceremony
(Front left:Mr. Kenji Momota, Director of Gakken,
Front right : Mr. Vu Van Tung, CEO of KH)