Project Background and Introduction of Activities
After the new administration took office in 2016, Myanmar is facing shortage in human resources equipped with practical experience, due to the increasing activities in domestic/international investments. National measures for human resource development are being implemented to meet the critical demand of technicians with professional knowledge. For example, the National Skill Standard are being formulated in cooperation with the Japanese government. These demands are increasing in many areas, including the automotive industry, which just recently started domestic manufacturing and imports.
There are very few opportunities for youth for acquiring systematic knowledge, especially in learning practical skills needed in industrial scenes, and the upgrade from the traditional apprenticeship style learning is an urgent issue. In response to this social problem, Giant Leap, Int., in cooperation with local vocational school GLORY Career Training Centre (GCTC) have offered an automobile maintenance technician course based on Japanese vocational school education system, to deliver education to many youths and nurture young technicians.
In addition to the situation, this project has conducted the following activities as an official EDU-port certified project.
Conduct seminars on qualified human resource development/education to industry-government related personnel from both Japan and Myanmar.
Curriculum development according to the National Skill Standard, which is now under formulation.
Providing internships at local automobile related companies, especially with the Japanese companies, in order to raise awareness within both students and companies on human resource development.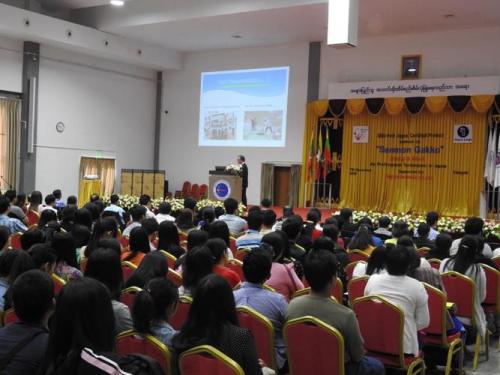 Technical Human Resource Education, Development Seminar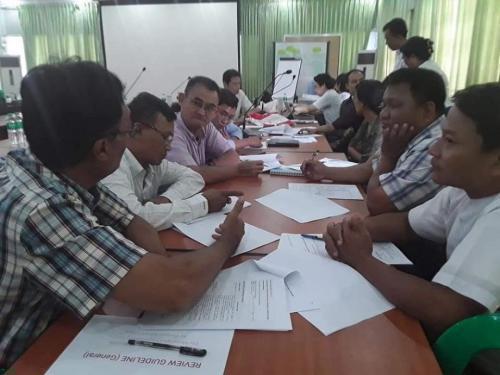 NSS Review Meeting (Myanmar Engineering Society)
Internships at Japanese Companies
With the cooperation of local Japanese automobile manufactures and maintenance companies, internship programs were held at local dealers and maintenance factories in January and August 2019. 2 to 3 GCTC students were sent to each location, where they were taught directly from the staff.
Internships have become common in Japan even in vocational school education, but it is not often seen in Myanmar. Awareness is low especially in small-scale businesses. Therefore our project members visited the hosting companies before the internship began to explain to the staffs the objectives and points to be careful on accepting interns. We also handed out simple forms to record daily findings and training progress.
Through these preparations and trainings from the staff, interns were able to successfully carry out service activities such as maintenance and inspection, car wash, oil replacement, and tire checks.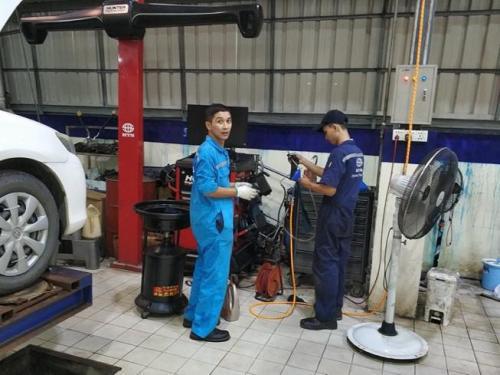 Maintenance and Inspections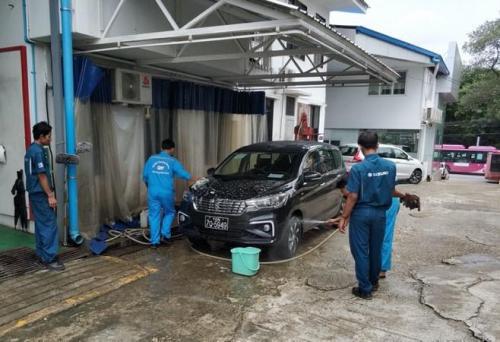 Washing cars at the dealers.
Strong Points of Japanese-Style Education
GCTC provides the same vocational education as conducted in Japan in the aspect of practical methods in training, emphasizing the importance of 6S within safety and hygiene education (The 6 "S"s taken form the following Japanese words: Classify (Seiri), Organize (Seiton), Cleaning (Seisou), Cleanliness (Seiketsu), Manners (Saho), Sustain (Shitsuke)), providing hands-on learning opportunities such as communicating with customers, dress codes and manners. As a result, the interns were able to deliver quality service to the customers, which was highly recognized.
The interns were able to acquire the strong sense of tension and responsibility when handling customers' cars. Hosting companies also realized the effectiveness of preparing appropriate environment for training, and said that they will consider these in to future hiring activities. Also GCTC teachers reported that the learning motivation of the students had risen after the internship.
The internship enabled us to once again recognize the strong points of Japanese-Style education, which values understanding of positions of students and the companies, and always aims to build strong relationships between the both.
Prospects for the Future
Nurturing core human resources in many industries including automobile industry will continue to be an important issue in Myanmar. We hope that this project can expand in other areas, so that it can bring greater contribution to the Myanmar society.