Debriefing Session on Kagawa University's Projects in Cambodia
An online debriefing session on Kagawa University's efforts to expand school health in Cambodia held in September 2021 was attended by members of EDU-Port Japan Secretariat.
Kagawa University has been working to expand school health in Cambodia through various projects, including a Japan International Cooperation Agency (JICA) Grassroots Technical Cooperation Project to build a school health room system to improve health education in Kandal Stueng District from February 2017 to February 2020, and an EDU-Port Japan Supported Project to develop a Japanese-style school health room-based staff training model from 2018 to 2019. The purpose of the debriefing session was to report the results and future development of the university's initiatives.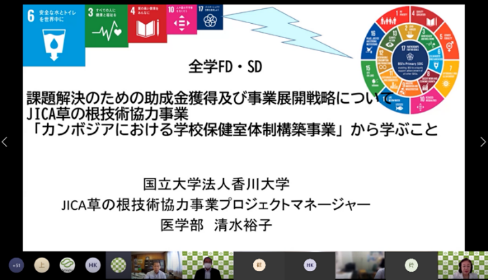 (Debriefing session (1))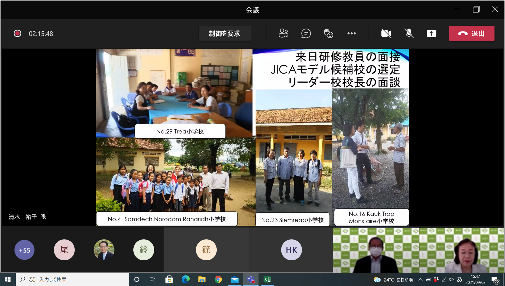 (Debriefing session (2))
Results
The following results of Kagawa University's efforts to expand health education by technical transfer of Japanese-style school health room to schools in Cambodia were reported.
・Creating Cambodia's First School Health Textbook
The project extracted items on school health from existing Cambodian primary school "Science" textbooks and created Cambodia's first school health textbook in English and Khmer for pupils and teachers, modelled on Japan's school health textbooks. The school health textbook was approved by the Cambodian Ministry of Health and Ministry of Education, Youth and Sports (MoEYS), the copyright was transferred gratis to the Cambodian government and the textbook has been adopted as supplementary reading material.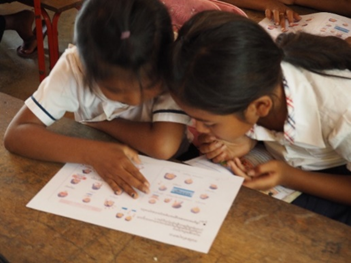 (Monstaire Primary School pupils read Cambodia's first school health textbook, compiled by Kagawa University and copyrighted to the Cambodian government)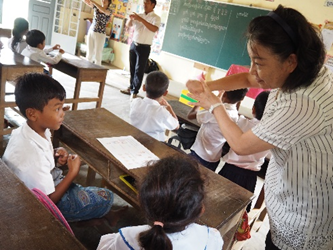 (The project manager teaches pupils how to wash their hands based on the Cambodian school health textbook developed by Kagawa University)
・Building a School Health Room System
The project also focused on building a school Health Room system, including Health Room staff training and Health Room management, at all 32 primary schools in Kandal Stueng District, the target area. By establishing accurate recordkeeping of Health Room users and their symptoms by the staff member in charge of the Health Room, we were able to grasp trends in Health Room use including periods of increased use. To develop the skills of the Health Room staff, we also provided instruction in first aid, maintenance of an appropriate first aid kit and cooperation with parents.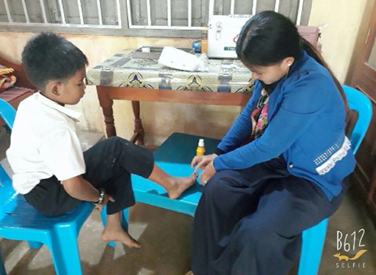 (An injured pupil is treated in the Japanese-style school Health Room by the staff member in charge)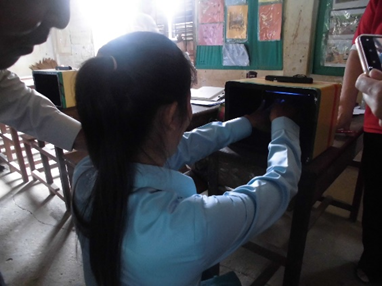 (The staff member in charge of the Japanese-style school Health Room uses a homemade black light box to check how well pupils' hands have been washed)
・Building model toilets and a hand-wash station model
The third achievement was the original design and construction by Kagawa University of model toilets and a hand-wash station model at three target primary schools in Kandal Stueng. Ingenuity transformed the image of dark, dirty toilets into bright, airy toilets with a skylight and double roofing to provide shelter from the heat. As there were no toilets for girls, we also built a model girls toilet. Funds ran out during construction due to increased work processes and price rises, but the model toilets were successfully completed.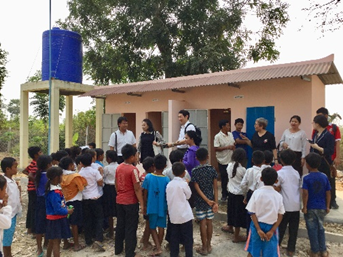 (Observing cleaning of Trea Primary School toilets with Head of MoEYS School Health Bureau (top row, third from right))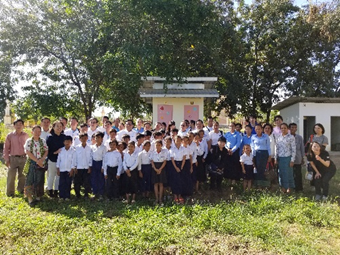 (Outumpor Primary School pupils in front of the girls toilets built by Kagawa University as a reformed model of standard MoEYS toilets)
Introducing the Kagawa Model
As part of its efforts, Kagawa University actively engaged in PR activities, distributing a newsletter five times to schools across all 11 districts in Kandal Province. The staff assigned to the Japanese-style health rooms in Kandal Stueng District played the role of models in the process of providing a concrete image to enable the relevant state and local government personnel to understand the need for Japanese-style school health rooms and to concretize this need as policy. As a result, promotion of the introduction of school health room was clearly specified in the Cambodia National School Health Policy which was approved by the Cabinet in June 2019. A government Japanese-style health room model was established in the capital Phnom Penh and more will be added in future. The Kagawa University logo is printed on the back cover of the School Health Plan Document for distribution to the Cambodian central government and across the entire country. Additionally, the Kagawa model is reflected in the Plan, for example, in the concepts of "health education" and "health skills", the sorting and management of waste, construction of toilets, "clean school" rivalry and establishment of a multipurpose room for counselling on drugs and sex.
In February 2020, Hiroko Shimizu and other faculty members of Kagawa University met Dr. Hang Chuon Naron, Minister of Education, Youth and Sports, three times and received a letter of appreciation from him together with the comment, "Going forward, we will develop and implement the Kagawa model as Cambodia's comprehensive school health programme."
Future Aspirations
The EDU-Port Japan Research Project "Project for the Development of a Kagawa University Health Education and School Health Room System Model" was launched this year as the successor project. In collaboration with Kagawa Prefecture and together with the Cambodian Ministry of Education and Ministry of Health and the Cambodian University of Health Sciences, we will develop a system for centralized management of school medical check-up data and build a system for training school health education researchers.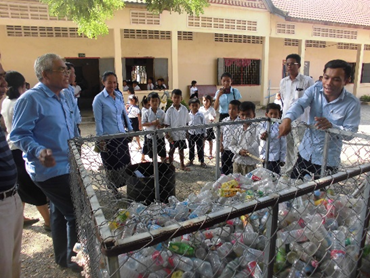 (Explaining the plan to finance electricity charges with waste recycling expenses in local teacher training)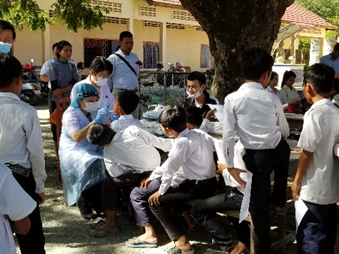 (Outumpor Primary School pupils participate in a model school dental check-up project in the school playground)