【Research Project Title】 Verification research on the challenges and possibilities for development of Japanese-style school health that
contributes to the SDGs (Laos, Cambodia, Nepal, Bangladesh, Niger, Ghana and Kenya)
In the research project led by Shinshu University, empirical research into the development of teaching materials (ESD x health education) is being carried out in teacher training schools and other institutions in Japan, Laos and Nepal. During fiscal 2021, we prepared educational materials, teacher-training materials and teaching plans (separate editions for Japan and for developing countries) covering 4 topics; COVID-19, comprehensive sexuality education, water & sanitation and lifestyle-related diseases. Through the development of teaching materials and their use in lesson studies, we aim to develop human resources that will contribute to achieve the SDGs.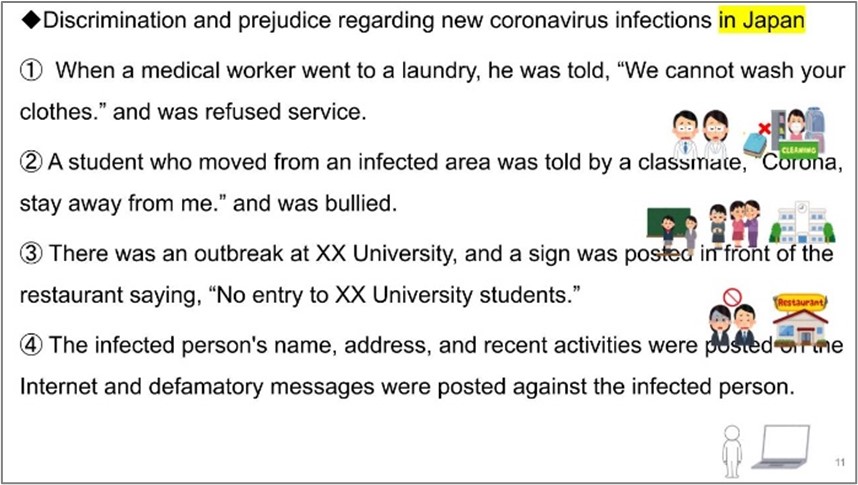 Teaching materials on COVID-19
We take health issues as our entry point and are preparing teaching materials that can be used for Education for Sustainable Development (ESD). We aim that the students understand the problems and mechanism of poverty and disparity, which could be caused by health issues taking place both in Japan and other countries. Our aim is not only just making students understand them, but also facilitating them to think by themselves what they should do and take specific actions (including communicating to others) to realize the world of "No one is left behind".
The following 6 perspectives constitute the concept of building a sustainable society. We consider that these perspectives are incorporated when structuring the learning activities:
1. Diversity (variety exists)
2. Interdependence (relating to each other)
3. Limitation (limits exist)
4. Fairness (valuing everybody)
5. Cooperation (cooperating with others)
6. Responsibility (taking responsibility)
In addition, we have structured the learning activities so that the students acquire 7 competencies and attitudes necessary to solve problems in order to build a sustainable society, as emphasized in ESD:
1. Ability to think critically
2. Ability to plan with anticipation of a future scenario
3. Ability to think in multidimensional and integrative ways
4. Ability to communicate
5. Ability to cooperate with others
6. Attitude to respect relations and connections
7. Attitude to participate proactively
More specifically, on the topic of COVID-19, we are working on the preparation of teaching materials that deal not only with prevention of infectious diseases, but also with topics such as issues related to vaccination, the problems of discrimination and prejudice arising from the spread of COVID-19 and the mental health problems due to its prolonged spread. On the subject of comprehensive sexuality education, we are preparing the teaching materials on menstruation and life planning. Regarding the subject of water & sanitation, we take up the following topics; handwashing practice as an anti-infection measure, planning of awareness activities with Nudge Theory to encourage the practice; and the issue of inequality in the use of water resources. On the subject of lifestyle-related diseases, our teaching materials cover the issues of double burden of malnutrition, which is the coexistence of overnutrition and undernutrition.

Teaching materials on WASH (Water, Sanitation and Hygiene)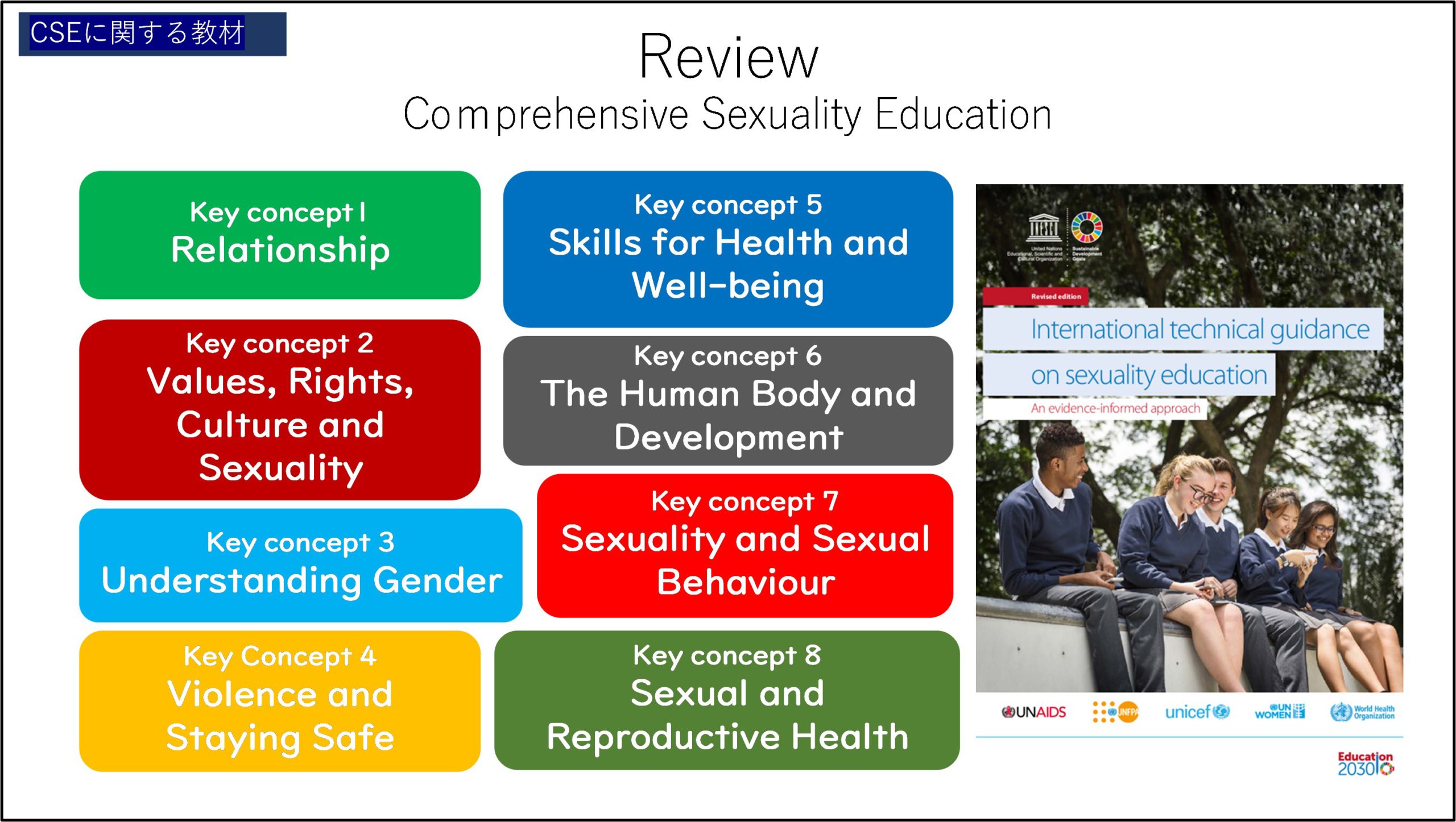 Teaching materials on comprehensive sexuality education
In January 2022, we conducted an online lesson study using the prepared teaching materials for undergraduate and postgraduate students of the Faculty of Education at Shinshu University, who aim to become teachers in Japan. Conducting the lesson study online allowed faculty members and postgraduate students from other universities such as Osaka University and University of the Ryukyus to participate in the discussion. As their specialties varies from anthropology, public health, to gender, the discussion was held with diverse perspectives. In addition, the participation of in-service teachers and persons with wide experience in developing countries made the discussion much deeper on the topic of "What is Japanese-style health education".
Furthermore, we are currently engaged with researchers in Laos and Nepal in developing teaching materials of their own country versions. In addition to bilateral discussions between Japan and Laos and between Japan and Nepal, trilateral discussion makes our understanding deeper about the impact of cultural background and social system of each country, that should be taken into consideration when developing teaching materials. About 15 participants from 3 countries actively join in the online discussion, which are held on a more or less weekly basis. We value this online discussion as meaningful time, which we can experience under the current situation of travel restrictions. We look forward to the resumption of face-to-face discussions in each country this year.