Case Study: Health Education in Vietnam
Z-kai Holdings Inc. (hereinafter called Z-kai Group) has been working on the activities regarding "food education" since 2018 as a part of 2018 Edu-Port Japan Certified Project.
In Vietnam, child obesity in urban areas has become a social problem. The following is regarded as the reasons: Few parents were provided proper guidance of nutrition. There are a lot of families who give food with their children whenever and whatever they want as much as they want, whereas they have become richer according to the development of the urban area.
In response to the social problem, Z-kai Group has been providing "Japanese-style "food education" guidance" in Vietnam since 2018 in collaboration with "Smart Kids Co., Ltd." with knowledge of food education, and the local subsidiary "Eiko Vietnam" as well as experts of nutrition from Japan and Vietnam.
Specifically, we designed lessons that were mixed interactive learning and experiential learning. A learning objective and a summary of lesson were set and repeated in each lesson so that they can reflect on the lessons consciously. In 2018, two lessons; "Importance of Vegetables" and "Balance of Nutrition" were implemented as well as "Cooking Practice."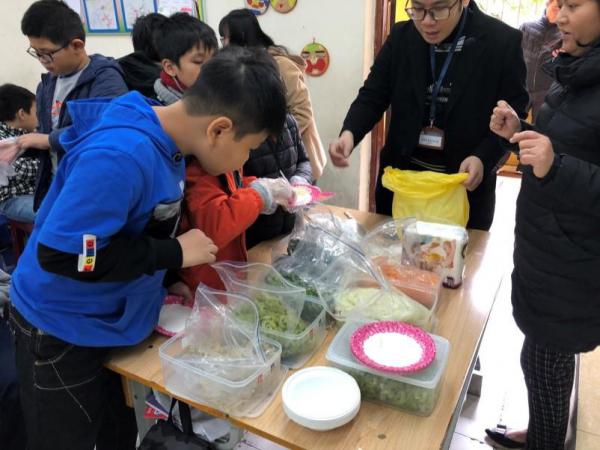 The lesson of "Cooking Practice" at local school (2018)
In this year, first of all, we started to study the local "snack situation" based on the hypothesis that "the biggest factor of obesity is a snack". As a result, we found shocking situations. Some children took Banh me (Vietnamese sandwich) and pho (rice noodle soup) as snacks, which were rather meals than snacks, we thought. Other children had a snack while riding motorcycle driven by their parents who came to pick them up.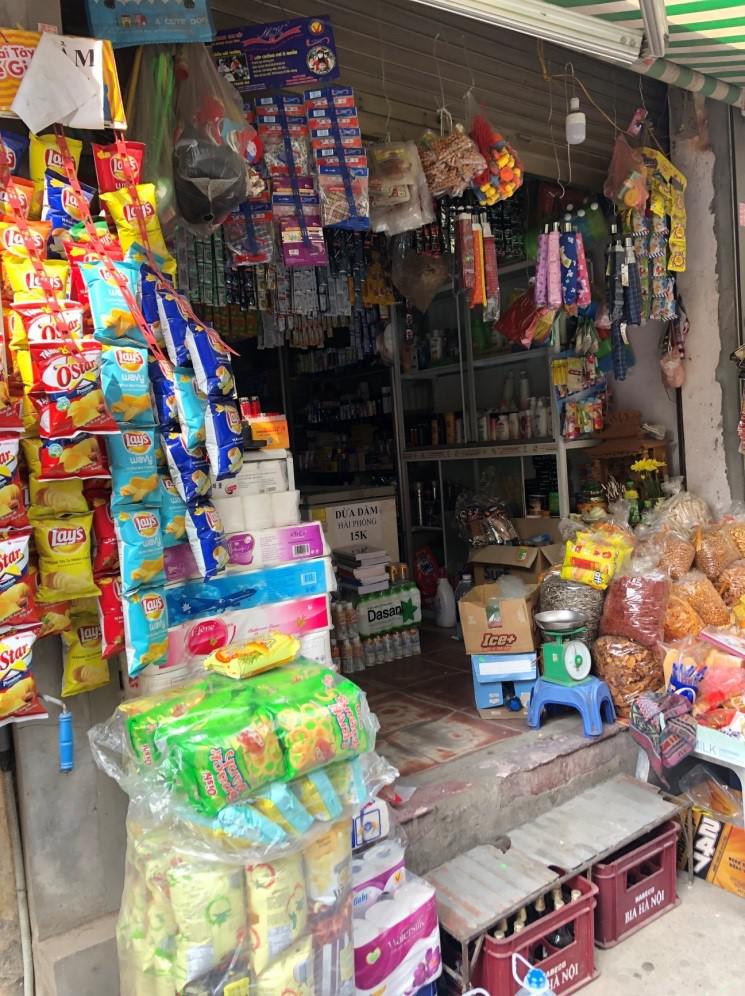 The typical "store" around schools where parents buy a snack when they come to pick their children up.
In addition, we can see a lot of "food stands" selling bread and banh mi around schools.
Taking these situations into consideration, we delivered lessons of the following contents so that they could learn sensuously through "an experience". The amount of the calorie allowed as a snack a day is 100-200kcal (which is about 10% of the total energy required for a day) and we can know the calorie value from the package of a snack. Even if there is no information on the package, we can know it roughly with "hand measurement" by adjusting the amount of snack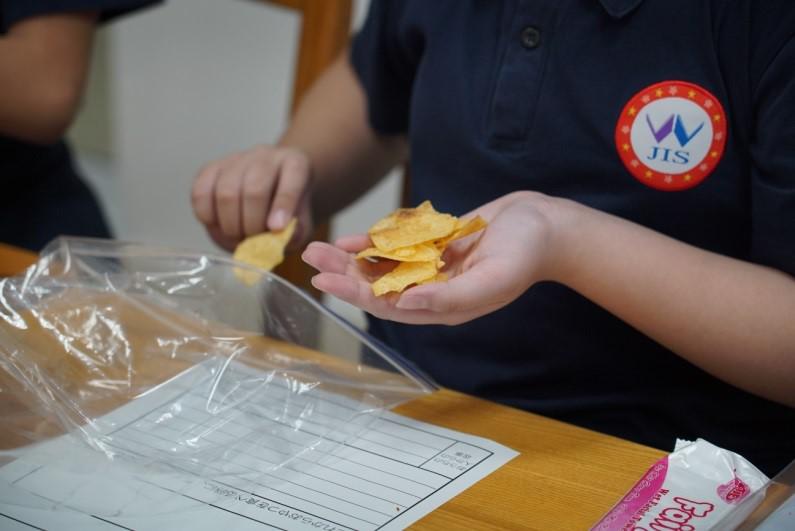 Practice of "hand measurement" to know how much we can eat snack a day, which fits in one hand
We let the participants pack the potato chips which they measured with "hand measurement" into a bag and bring back home. We also designed a worksheet which had a space that parents fill in to promote the communication between a school and a family and the change in awareness of families.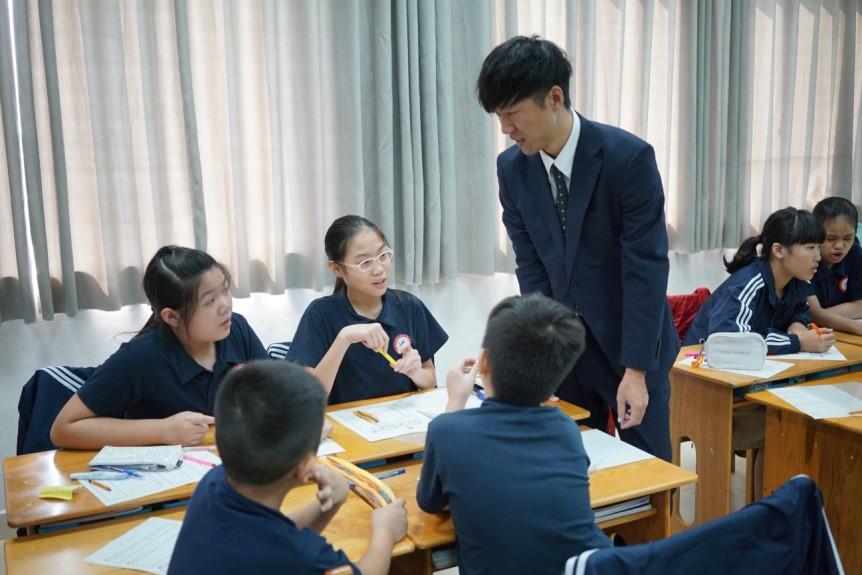 Mr. Saito, a nutrition teacher (Japanese expert), listening to discussions among students while walking around the class
There are opportunities to learn the knowledge of food in Vietnam as well. On the other hand, there are many students in a class; more than 45 students, and lessons are mainly taught in the form of one-way mass teaching from teachers to students. Textbooks and teaching materials are printed in black and white, having a lot of letters. There are few opportunities for students to discuss in a group and to experience in a class with a full-color textbook, which are common at Japanese primary school. Based on these situations, we have delivered lessons of "active learning" intentionally in the Project, which are highly appreciated with a voice "the lesson is very impressive, so it will be a topic of conversation at home." We realized again the importance of teaching that was not only mass teaching, which is often pointed out in Japan as well. In addition, when we showed Japanese "home economics" textbooks and learning materials* developed by the Ministry of Education, Culture, Sports, Science and Technology (MEXT) to local specialists, they highly valued the quality and understandability of the textbooks. It reminded us that "learning oinf Japanese-style" was applicable in other countries.
* Learning material of eating habits (for highly grades in a primary school)
http://www.mext.go.jp/a_menu/shotou/eiyou/06050810/001.pdf, etc.
Students in Vietnam have high motivation for learning. When we visit local schools, we are soon surrounded by the students who want to communicate with us in Japanese or English. We refresh our passion to provide the healthier learning environment with those students in cooperate with the local staff.
In addition to the instruction at schools, the involvement of parents is crucial in "food education". Therefore, we plan to create animation teaching material for parents as a part of the activities of this year since they are daily using SNS as communication tools. Although we need to take the demonstration period into consideration in the remaining Project period, we are eager to work on it since the promotion of understanding of parents is a very important issue.
(2018 EDU-Port Certified Project:Z-Kai Inc., Z-kai Holdings Inc.)