Educational Reform in Cambodia
All our activities in Cambodia were suspended due to Covid-19. The inability to utilize ICT amid the coronavirus pandemic is critical.
The Cambodian Ministry of Education, Youth and Sport has been seriously promoting learning through networking since April, and the Minister himself has been actively holding training sessions. It was under such circumstances that the EDU-Port Japan 2020 certified project was rolled out.
Challenging International Collaborative Learning

Collaboration with two teacher training colleges in Cambodia since 2017 has been strengthening through "EDU-Port Japan" pilot projects. Three teams from these colleges participated in the English presentation convention at the 22nd World Youth Meeting (WYM) organized by Nihon Fukushi University. The best thing about networking is being able to instantly connect with the world. Weekly Zoom sessions were held from April until the convention on 26 September. For Cambodia it represented implementation of a new teaching method.
What Cambodian and Japanese students learned
Cambodian students
・ICT education is effective for achieving collaboration and EdTech promotes collaboration. (Line, Zoom, Google Classroom, etc.)
・Collaborative learning promotes collaboration and cross-cultural understanding.
・Task-based learning gives a sense of achievement and confidence in using English.
Japanese students
・Stereotypes of developing countries were debunked.
・Inspired by the Cambodian students' ability to use English, their ICT skills, and their dreams for the future.
・Learned how to communicate through differences of opinion, conflicts and collaborative work.
What both countries' students learned?
・Relationships are something we have to build up. In the "collaborative presentation", a Cambodian student commented, "In terms of the economy, Cambodia is overwhelmingly inferior, but the same cannot be said of the quality of its people." For the Japanese students, such a comment was surprising and thought-provoking.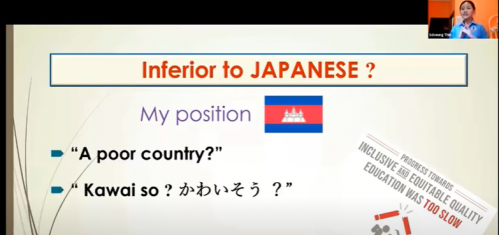 Collaborative Presentations by Cambodian and Japanese Students (after interacting for 6 months)
・Different cultures, reconciling views
"Japanese students spend all their time on part-time jobs … (lack of concentration)". Apparently, it was difficult to coordinate times. The Cambodian students, whose attitude is that students' job is to study, and the Japanese students, who are preoccupied with part-time jobs, attempted to solve issues by discussing in English.
English is a Tool
 "They have the knowledge but lack the ability to apply it." Asian English is like a paper driving license. Communicating via Zoom involves expressing yourself in words and building a relationship. "Task-centered instruction" is a means of taking active steps and delivering results in order to achieve a goal.
Based on this theory, the mentoring staff of both countries' universities acted as coordinators in the use and promotion of lesson networking through international collaboration.
Decisive Difference
When making a presentation in English, it is important to speak loudly, clearly and confidently. Students in Cambodia who are training to be teachers have 14 weeks' teaching practice over two years. In Japan, a teaching license for elementary school involves 4 weeks' teaching practice. Training in speaking in front of people is longer in Cambodia. Additionally, participants' awareness that they are representing their country comes across in their presentations.
EDU-Port Activity Report Presentations (Siem Reap)
 A presentation session was held in Cambodia in the first week of November 2020 to coincide with the start of the new term. About 300 students and staff attended presentations on how to make a presentation in English and how to utilize ICT, as well as WYM presentations. Global learning activities and new ICT education were introduced.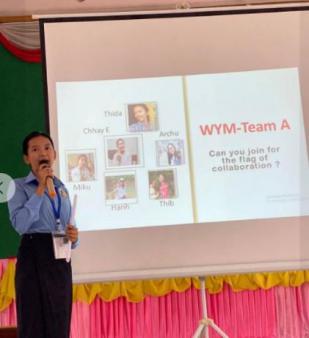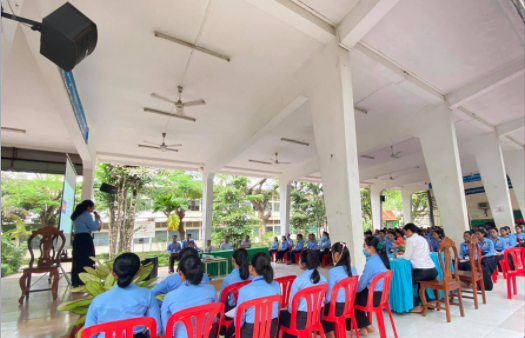 Globalization of Japanese-style Education
Amid the trend toward "Turning crisis into opportunity", collaborative learning with Japanese students was implemented. On the Japan side, 170 students from Nihon Fukushi University interacted with students from two colleges in Cambodia, preparing and giving collaborative presentations at the international online presentation session.
The theme was "Show your flag for Quality Education, Goal 4". For the Japanese students, the attitude of the Cambodian students who worked wholeheartedly on collaboration, made full use of English, and indicated the direction of their country's education became a "new Cambodian model". The Japanese students continue to send "Simple English" content to support English lessons in Cambodian elementary schools.
EDU-Port Activities continue to this day

Interactive lessons, starting with the EDU-Port Japan pilot project, continue to be planned and implemented every month.
On 20 November, at New Educational Expo, a Cambodian teacher reported on the EDU-Port Japan pilot project and efforts in ICT education in Cambodia (see reference material). On 22 November, Professor Yoshida of Kansai University, a Japanese educational technology researcher, gave an online lecture on "CEFR and Digital Teaching Materials."
Activities are ongoing every day.
Related Materials
Collaborative Presentation by Cambodian and Japanese Students

WYM official website
http://www.japannet.gr.jp/w2020/
ICT Reform in Cambodia, NEE Tokyo
http://www.kageto.jp/edu-port/2020-NEE-Ratha.docx
Responsibility for the wording of this article:
Makoto Kageto,
Nihon Fukushi University