Company Overview
Business Sector
Manufacturing Industry (musical instrument, audio equipment, industrial machinery/components etc.)
Primary Business
Musical Instrument Business (pianos, digital musical instruments, wind instruments, string instruments, percussion instruments, educational musical instruments, music schools, English-language schools, music entertainment software)
Audio Equipment Business (PA equipment, AV products, network devices and communication, soundproof rooms)
Electronic Device Business (semiconductors, automobile interiors, FA equipment)
Other Businesses (golf products, resort facilities)
Purpose of Project
Cultivate human resources for the future Vietnam through:
Providing opportunities to experience the enjoyment of playing musical instruments (especially "recorder" which is a popular wind instrument for the educational use in Japanese schools)
Enriching contents of music subject in primary and secondary education
Current Situation of the Primary and Secondary Music Classes in Vietnam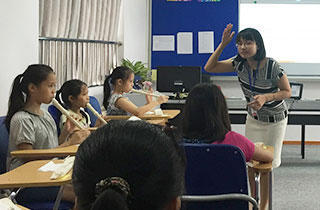 In Vietnam, playing musical instruments is not included in the music curriculum, and pupils/students only learn the names and characteristics of musical instruments through appreciations and textbooks.
On the other hand, it is quite popular to use musical instruments in schools in Japan, US, Europe, and even Asian countries like Indonesia and Taiwan.
Playing musical instruments have the following benefits:
Pupils/students can express their feelings through playing musical instruments. It is said to be more effective than singing.
Through ensembles, students recognize the existence of "others" and learn responsibilities and cooperativeness.
Boys in puberty, who find themselves difficult to sing, can especially express their feeling through playing musical instruments.
Recorder Trial Project and Proposal in the Future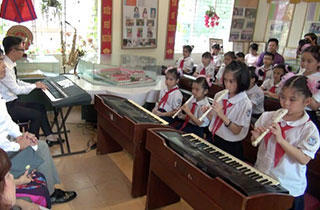 In the schools that are now in the trial phase of the "Recorder Activity", we will set chances for the pupils/students to perform in front of their parents and teachers, so that the audiences can also experience the positive effects of playing musical instruments.
We will also cooperate with the Ministry of Education and Training to train teachers in schools for the further enhancement of the project.