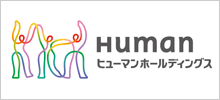 Since our establishment as an education business in 1985, the Human Group has expanded our education business, childcare business, nursing care business and recruitment business, etc. centered on "HUMAN".
We provide opportunities to have a self-fulfillment by making use of what they have learned, based on the group's management philosophy, "to contribute to society through our hard work".
We have 330 domestic business bases and 7 overseas ones. In Asia, we operate a Japanese language education business and a nursery school business. We mainly develop specialized education business in Europe and English education business in North America.
Category
Textbook / Material development, School facility, Math / Science education, Career education, Teacher education, Early Childhood Education, Vocational education and training, Others
What we do
1.Education
2.Nursery school(Child care)
3.Human resource development
Countries we've worked
Indonesia, Vietnam, Thailand, USA, Canada, France, China
URL
https://www.athuman.com/en/
TEL
(+81) 3-6846-8507
Email
k-harada@athuman.com