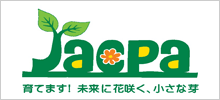 Ever since its establishment in 1972, JACPA has been providing the physical education (PE) for various types of sports and English education to over 120,000 children mainly in nursery schools and kindergartens all across in Japan with the corporate philosophy "We nurture buds blooming in future".
Also, our international division established the local subsidiary in Singapore (2006), Indonesia (2016) and Vietnam (2017). We have been teaching PE to both Japanese kids residing overseas and local kids by our original Japanese-style method.
JACPA aims to further amplify its business activities in other regions across Japan and overseas.