| | |
| --- | --- |
| Organization | The National University Corporation Tokyo Gakugei University |
| Title | "Gakugei Univ. Digital Bookshelf Gallery" |
| City, Country | Japan |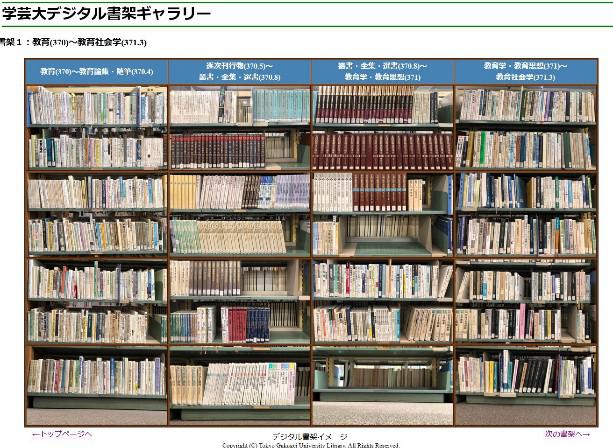 Tokyo Gakugei University temporarily closed its library from April 9 in response to the state of emergency due to the COVID-19 crisis. Subsequently, we opened the web page to offer the online library service for home study by promoting digital resources, such as additional purchase of e-book contents, improving access from outside of the campus, and setting up an online reference desk and peer support team to support students' learning. The library service has been gradually resumed; the book lending service via mail resumed since May 20 and the allowing university members who made reservation to enter the library since June 2. In order to further improve the convenience for users and to contribute to the continuous learning during the COVID-19 crisis, we opened the "Gakugei Univ. Digital Bookshelf Gallery" to provide a browsing experience in the university library under COVID-19.
This project is to provide images of bookshelves in the library via net to supplement the OPAC book search function by enabling users to find books by looking at bookshelves. At present, approximately 19,600 spine covers of the books, mainly concerning the area of education, stored in 56 bookshelves are browsable on the web. This project offers users browsing experiences in the library, in which they can find novel books and get intellectual stimulations, even when they cannot enter the library. We focused on a function of libraries as "a learning space with books," in short, as "a place." This is the only example in Japan to provide library users who cannot visit to the library with the images of the bookshelves in the library during the COVID-19 crisis.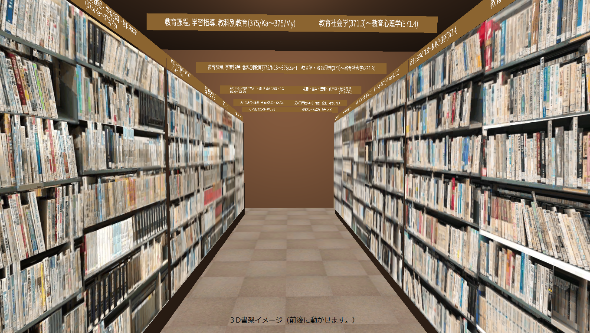 In addition, with cooperation of Tokyo Gakugei Univ.'s Explayground Promotion Organization, we created and published a prototype of "3D bookshelves." Explayground engages in lab activities that focus on "learning" that can be gained while being absorbed in "play" under the comprehensive partnership agreement between Tokyo Gakugei University and Mistletoe Japan, Inc. The "3D bookshelves" were created with the aim of enabling users to experience the atmosphere in the library at home by moving and playing with these 3D bookshelves.
224 bookshelf images data are freely reusable for academic, business, or any other purpose under the rules of creative commons licence attribution (CCBY). Images can be downloaded in batch. We expect that some researchers and enterprises become willing to research or develop services like the "3D bookshelves" we created on a trial basis.
We had approximately 1,900 accesses in the first month after the opening of service. Librarians and other stakeholders have shown their interests, such as "What a surprise you are actually working on what I wanted to have" and "It would be fun if we can see bookshelves in various libraries." We will expand our activities to improve the library service and to keep students learning in the with-COVID-19 society.