From September 25 to 29, 2023, 24 students and teachers from four schools that had won the first prize in the SEAMEO-Japan Education for Sustainable Development (ESD) Award visited Japan along with staff from the SEAMEO Secretariat.
The SEAMEO-Japan ESD Award, an award scheme for elementary, secondary and high schools in SEAMEO member countries(*1), is jointly sponsored by the Ministry of Education, Culture, Sports, Science and Technology of Japan (MEXT) and the Southeast Asian Ministers of Education Organization (SEAMEO) and is aimed at promoting ESD practices in local areas by recognizing excellent ESD initiatives. Providing the winning schools with the opportunity to visit Japan and deepen interaction with UNESCO Associated Schools(*2) and other schools in Japan helps to promote understanding of Japan's education and culture.
The four schools that had won the award from 2019 to 2022, two from the Philippines and one each from Singapore and Malaysia, were unable to visit Japan due to COVID-19, but they were eventually able to come this year. EDU-Port Japan ran the orientation session for the groups that came to Japan as well as providing support for their activities in Japan as part of the School Visit Program which supports visits to Japanese schools by overseas educators.
On September 26, the group paid courtesy visits to MEXT Vice Minister Shuhei Aoyama and to the embassies of their respective countries.
(MEXT: Courtesy Visit to Vice Minister Shuhei Aoyama by the SEAMEO-Japan ESD Award First Prize Winner Schools)
https://www.mext.go.jp/b_menu/activity/detail/2023/20230926.html
On September 27, the students visited Tokyo Gakugei University International Secondary School, a UNESCO Associated School, where they took part in classes and enjoyed cultural exchange with the students at the school. On September 28, they participated in the Tsukuba Conference 2023(*3) held at Tsukuba International Congress Center, and after giving a presentation on the initiatives which won the SEAMEO-Japan ESD Award, they interacted with the students of the Senior High School at Sakado, University of Tsukuba(*4) over lunch.
Visiting Tokyo Gakugei University
International Secondary School
Tsukuba Conference 202
Education for Sustainable Development encompasses learning/educational activities based on the concept of 'think globally, act locally'. ESD is an initiative in which each participant can proactively address the various challenges facing modern society, such as climate change, loss of biodiversity, unsustainable use of resources, and inequality, as its own challenges and strive to ensure a rich and bountiful life for future generations of humankind.
The four schools that visited Japan this September undertook the following initiatives.
2019 winner
South Hill School Inc., Laguna (Philippines)
On the theme of 'Kindness for Peace', the program includes learning about pregnancy and bullying, and donation activities for children in impoverished areas.
2020 winner
SM St. Patrick, Tawau (Malaysia)
As part of the Five Green Programme, the school addresses environmental issues, including greening school routes and recycling plastics.
2021 winner
Kranji Secondary School (Singapore)
At a time when face-to-face activities were restricted due to COVID-19, the school incorporated virtual reality into lessons and students had online exchanges with schools in ASEAN countries including Japan.
2022 winner
La Filipina National High School (Philippines)
While schools were closed due to COVID-19, the school produced and distributed a variety of educational video content not only for the students but for local residents.
The concept of ESD was proposed by Japan at the 2002 World Summit on Sustainable Development.
As mentioned above, ESD practices continue to be promoted in ASEAN countries while Japan and ASEAN countries continue to learn from each other.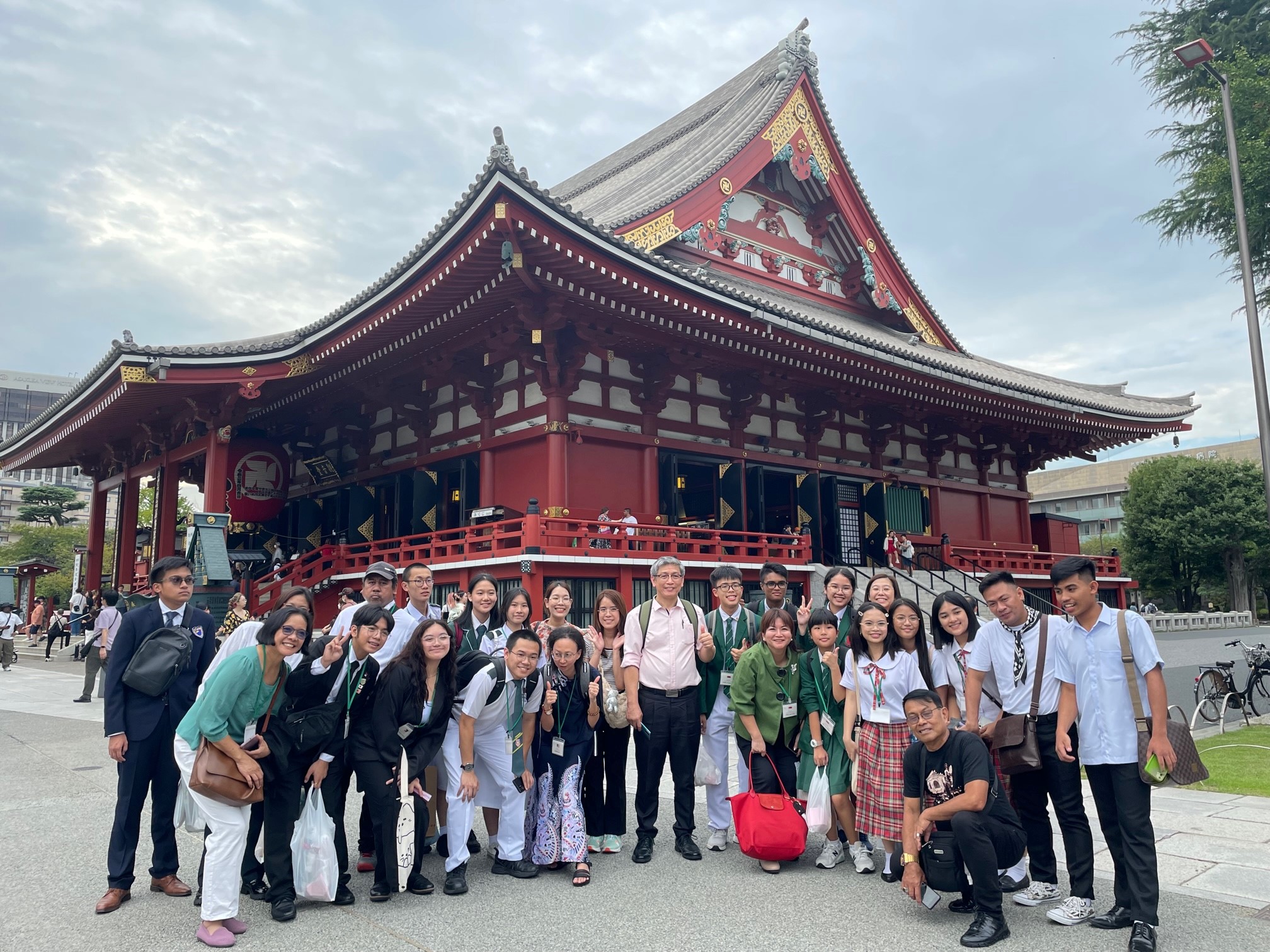 At Asakusa
(*1) 11 members comprising ASEAN countries and East Timor
(*2) Schools that practice peace and international cooperation in order to realize UNESCO's philosophy as set out in the UNESCO Charter.
(*3) An international conference where talented young people from industry, government and academia gather from around the world to discuss various issues in society, science and technology, and form networks. Held every other year since 2019, this was the third conference and the first time in four years that it was held face-to-face.
(*4) Designated a Super Global High School (SGH) by MEXT. Since 2019, the school has promoted global education and activities as a Worldwide Learning (WWL) base, utilizing Tsukuba University's overseas network.