Overview of School Project
Yamaha Corporation is engaged in a "School Project", which aims to "spread instrumental music education in public education" so that children in countries where children are not fortunate enough to have access to musical instruments can have the opportunity to play them. Following on from our activities in Vietnam under a 2016 EDU-Port Japan Certified Project (until March 2018) and 2018 Supported Project (until March 2020), our activities in Egypt were selected as a Supported Project in 2020. Including activities other than those in EDU-Port Japan related projects, we have provided the opportunity to play the recorder, pianica (melodica) or other musical instruments in public education to a total of 400,000 children in six countries.
<Photo 1: Scene at primary school in Vietnam>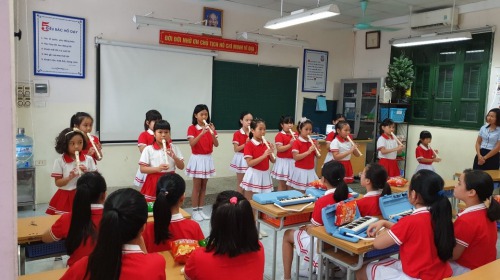 <Photo 2: Primary school in India>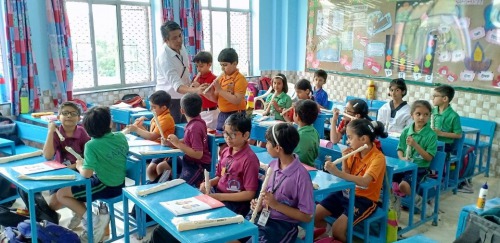 Background to Activities in Egypt
When we looked at the situation of music education in Egyptian primary education, we found that it was characterized by a lack of instrumental music lessons, that cramming-based education with overemphasis on academic ability was commonplace and that there was a lack of emphasis on development of non-cognitive skills such as social skills, cooperation, and discipline. We did, in fact, receive comments from local educators reflecting awareness of such issues.
In the course of our investigations, we came across Egypt-Japan Schools (EJS)* that incorporate Japanese-style education and extracurricular activities. When we discovered that even EJS had no instrumental music education, we first of all proposed and introduced recorder lessons on the assumption that "supporting the introduction of music lessons using musical instruments at EJS would pave the way to solving the above-mentioned issues in Egyptian society." In addition to our EDU-Port Japan activities, we are currently expanding our activities in Egypt in the form of participation in JICA projects.
<Fig. 1 Schematic Diagram of Egypt Project>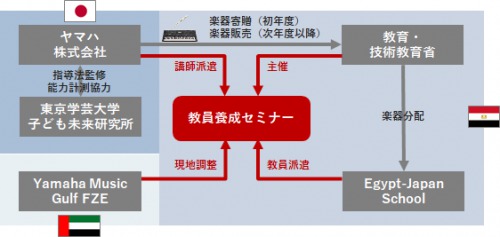 Plans for future activities are as follows.
・2020:    Select 10 Egypt-Japan Schools that promote Japanese-style education as pilot schools
Hold online recorder training courses for teachers
・2021:    Hold trial recorder lessons
・2022:    Hold class concerts and report on verification results of non-cognitive skill assessment method
Online Training
As it was difficult to travel to Egypt due to the coronavirus pandemic, the initially planned teacher training was conducted remotely. The training was conducted  a total of eight times between December 2020 and March 2021. Generally speaking, music education does not lend itself to online training and is greatly hindered by potentially fatal problems of sound quality and delay time. The normal training program, therefore, underwent a major review and creative ideas were deployed to overcome these difficulties when conducting the training. Though only visible on the screen, we could see the happy faces of the Egyptian teachers as they picked up a recorder for the first time and we recognized anew the power of music.
<Photo 3: Online Recorder Training for Egyptian Teachers>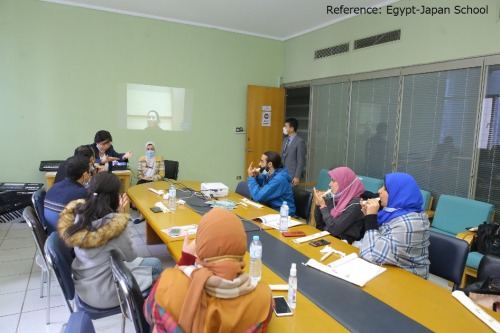 <Photo 4: Online Recorder Training Screen>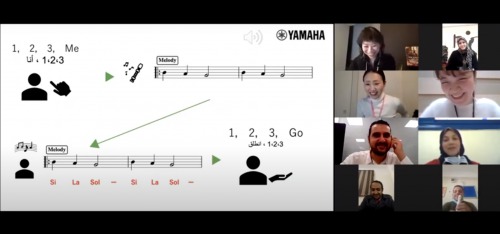 Music lessons in emerging countries such as Egypt are frequently found to be conducted with overemphasis on musical grammar and knowledge. Music lessons in Japan, on the other hand, focus on practical skill in playing a musical instrument and performing with classmates and feature the fostering of humanity as an educational goal. Yamaha undertakes projects based on the hope that its activities will arouse interest in fostering humanity and improving non-cognitive skills.
Current Results and Future Perspectives
We are currently at the stage of having set up online training for teachers at 10 selected pilot schools. As well as supporting the teachers after lessons start in April 2021, we will establish a method for assessing improvement in students' non-cognitive skills in collaboration with NPO Tokyo Gakugei University Children Institute for the Future. Through these activities, we hope Egyptian educators will recognize the merits of instrumental music education for children and its validity as education, and we aim to widen the scope to non-pilot EJS and ordinary private and public schools.
Note: Egypt-Japan Schools (EJS) are public institutions of primary education in Egypt established with financial support from JICA. A loan agreement was signed between JICA and the Egyptian Government in February 2018 and 35 schools were opened in the first phase in October 2018. The Egyptian Government plans to establish EJS throughout the country.