Case study: Teacher Education in Africa, Middle East and Japan
International practical exchange was held at the "Practical Research Fukui Round Table 2019 Summer Session" from June 21 (Fri) to 23 (Sun), as a part of activities of 2018 EDU-Port Japan certified project "Disseminating Fukui-style education to the world" by teacher training collaboration project in Africa, Middle East and Japan. Members of EDU-Port Japan Secretariat also participated in the event at Bunkyo Campus, University of Fukui.
A Round Table is an event where practitioners and researchers from different regions and occupations come together. They are divided into small groups, then exchange each other's reports for nearly five hours. This is the 37th Round Table, and the 6th time since 2017 when teachers from Africa started participating and international practical exchanges. The Fukui Round Table for Practical Research for three days consists of the following contents: Day 1: Pre-session, Day 2: Poster session, Thematic symposium and forum, Day 3: Round Table. More than 470 people from Elementary school, junior high school, high school and private companies in each district and universities across the country participated in the Round Table.
Mr. Austin Moyo from Malawi and Ms. Oma Betty from Uganda came to Japan for the Fukui Round Table. They received a three-week training at University of Fukui in November 2017 and worked on creating a professional learning community network for teacher learning in their home countries. Moyo reported, interpreted, and reflected on her own practice at the Africa Round Table * held in Malawi as a pilot project of EDU-Port Japan in October 2018. She also planned and operated a Round Table in collaboration with local teachers in December 2018. Betty, a teacher in Uganda, is currently preparing for a Round Table in his country. They participated in the Fukui Round Table on Practical Research to report on the practices of two countries with different socio-cultural backgrounds and progress, and to explore future prospects.
On the second day, June 22, Mr. Moyo from Malawi presented about "Lesson Study beyond Classroom: An Impact of Fukui Round Table" in the thematic forum and shared his experience that the activity of reducing plastic litter which has started with students after Round Tables have expanded across the community.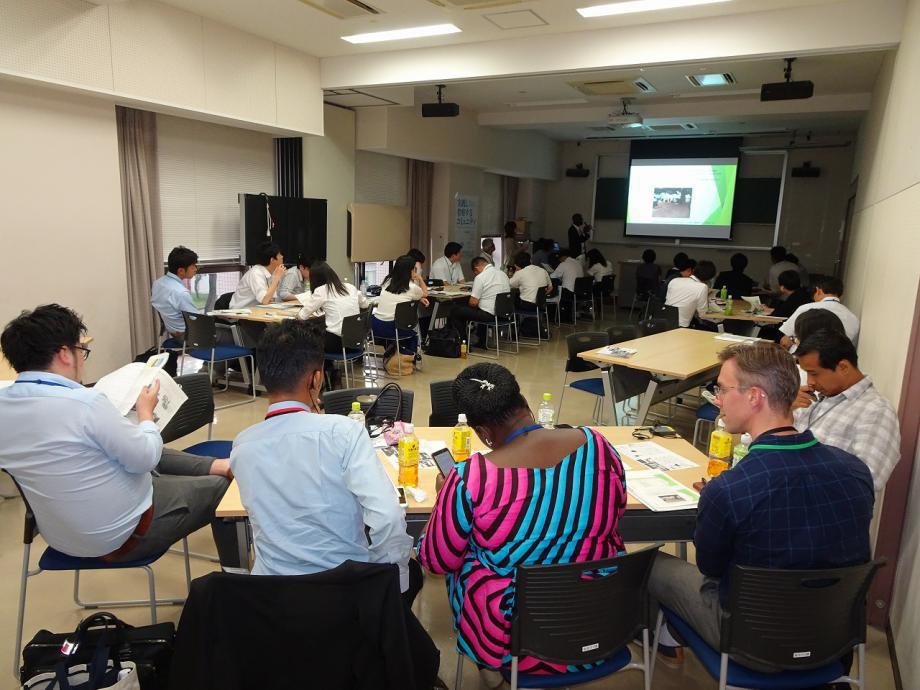 Thematic seminar
Lodola Jesuits junior high school where Mr. Moyo works as a teacher conducts a charity project every year. In 2019, Moyo's idea was to give the students only a major theme, "Environmental Activities," and the students decided the specific activities. Students discussed lively and agreed that plastic waste was a major problem in the area and decided to communicate the dangers of plastic waste to the community as a message. School teachers also negotiated specific ways to support students through Round Tables, and the students worked on awareness-raising and cleaning activities in their area from March for three weeks. Although the cost was limited, the local community donated for waste bins. Traffic guards stopped cars and helped students with their activities. They were able to meet their unexpected positive reactions, which made the students very confident. Finally, Moyo stated that lesson study should look outside the classroom as well as in the classroom and individual teachers can share and discuss good practices through Round Tables to enhance leadership.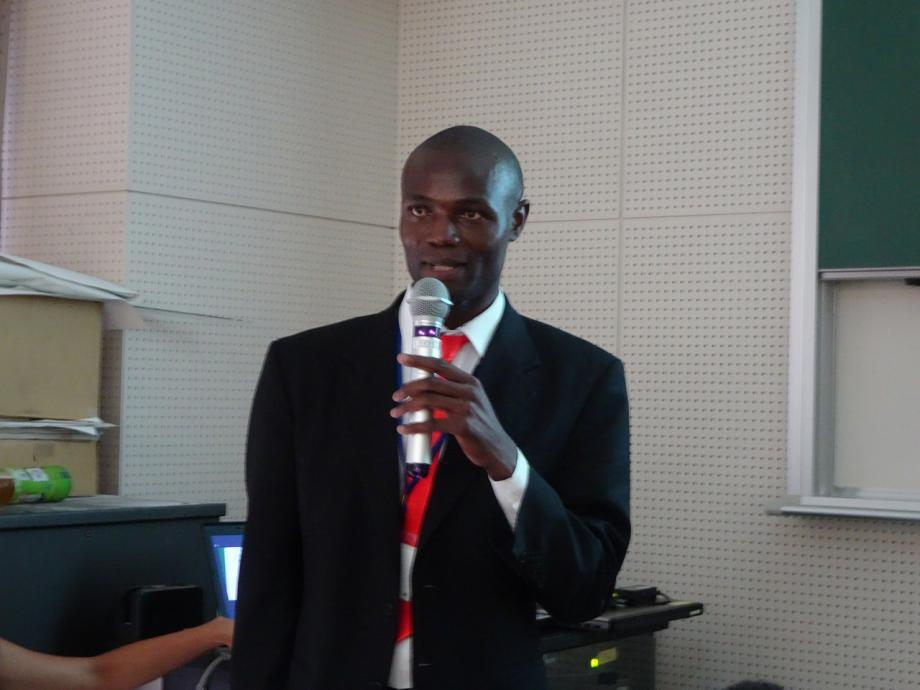 Mr. Austin Moyo(Malawi)
On the third day, the 23rd (Sun), a Round Table was held to listen to reports of each other's practices. Ms. Moyo and Mr. Betty shared their activities, worries, and discoveries with groups from a variety of countries, such as Malawi, Uganda, the Philippines, Guatemala, Myanmar, Canada, and Japan. Participants listened seriously to each other's talks, and lively discussions were going on.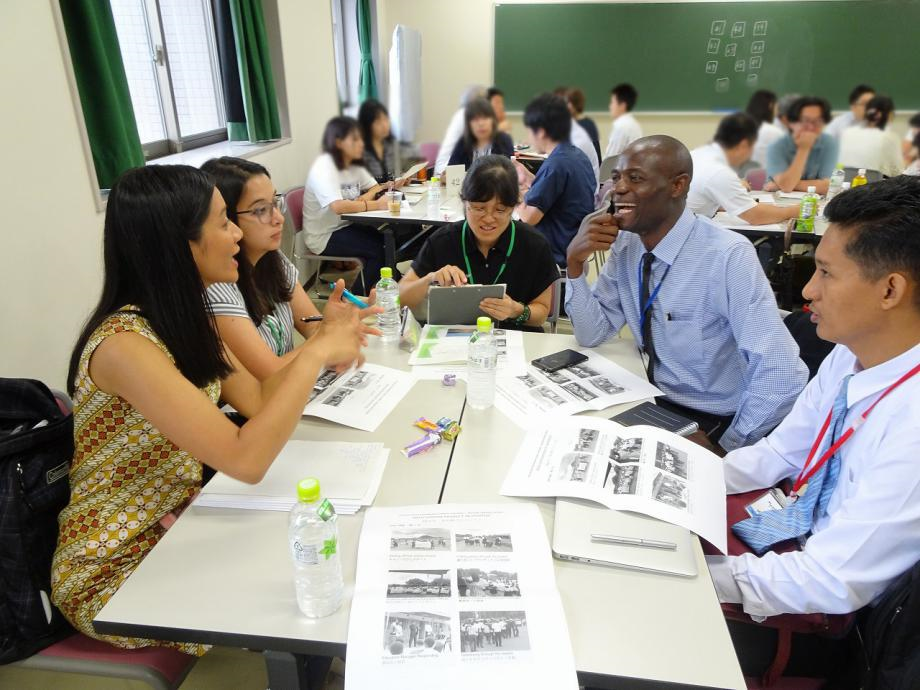 Round Table
We asked Mr. Moyo and Ms. Betty about the best point of the Round Table.
Mr. Moyo said that he was very impressed by the change in the way of training, including the introduction of a Round Table practiced during in-service teacher training. Until now, teachers rarely talked about their experiences to others. But it is attractive to be able to share your daily teacher's troubles with others, to know each other's efforts and interesting activities and to be encouraged just by talking. He also feels that Round Tables are a wonderful initiative to change the community itself
Ms. Betty replied that Round Tables are "discovery". e She is most attracted the point which
you can find that participants have the same problems as you and there are new discoveries not only in many new teaching methods and ideas from other participants but also in your own ideas through Round Tables.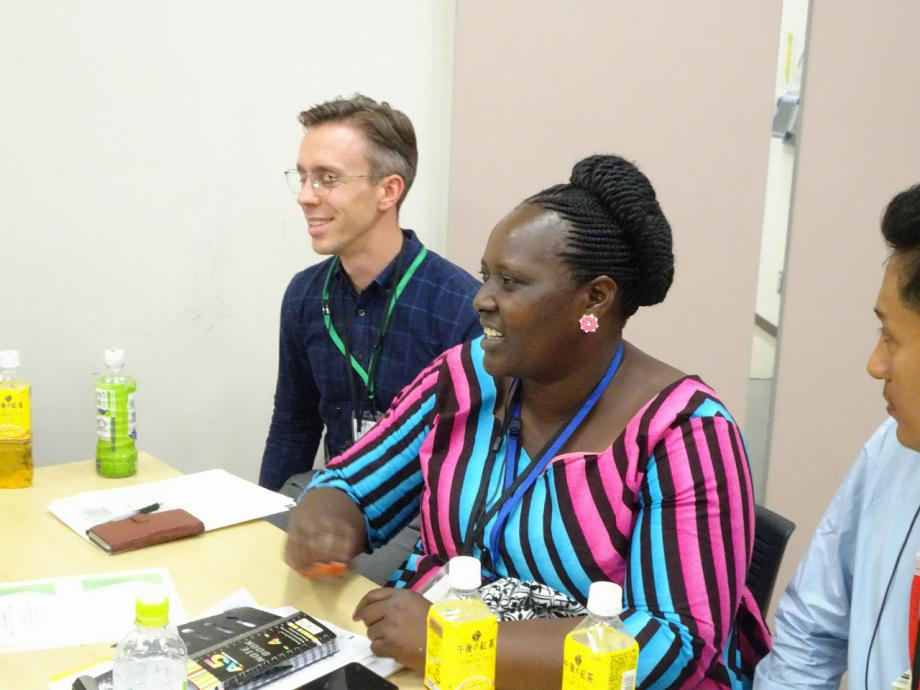 Ms. Oma Betty (Uganda)
The Fukui Round Table, a three-day practice study, was a great success. In recent years, the number of people interested in Round Tables has increased, and inquiries have been received from Zambia, Ghana, and Rwanda. In addition, practical examples of Round Tables will be introduced at the World Class Study Conference in Amsterdam. The Round Table from "Fukui-style education" is changing in each country, evolving, and spreading to the world. There are great expectations for future activities.
(2018 EDU-Port Certified Project: University of Fukui)