Project Overview
Starchild Indonesia (Jakarta/Kuningan) is the first overseas nursery operated by Starchild, which operates 35 licensed nurseries in the Tokyo metropolitan area in Japan. Starchild is offering Japan-quality daycare in Indonesia based on an education package comprising Japanese daycare that is adapted to the development age of the young child, communication in English and unique flash cards and workbooks. Since opening in 2018, the nursery has been attended by children of more than 10 different nationalities who live in Jakarta. At the nursery, they learn together and spend their days full of energy.
Although every nursery in Jakarta had to close for a period of about one year due to a government directive during the COVID-19 pandemic, the children immediately returned to the nursery after its reopening last year. The number of children has now reached 50.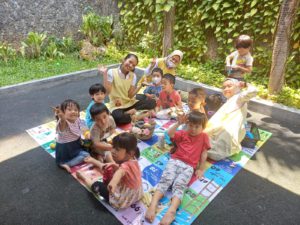 In the urban environment of Jakarta, it is impossible for children to experience things that are commonplace for kindergarteners in Japan, such as going to a local park. There is an undeniable deficiency in terms of exercise. Through EDU-Port Japan, we got to know JACPA, which offers physical education classes in Jakarta. We visited their classes and now have partnered up with JACPA in the hope of supporting the mental, moral and physical growth of the children. Thankfully, our children and their parents have been very appreciative of this.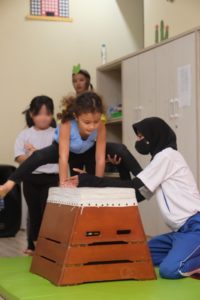 Details of ongoing activities
1. Proprietary WALLET program that incorporates educational components
We are implementing the proprietary Starchild WALLET program that was developed on the basis of the five areas of daycare in Japan (health, human relationships, environment, language and expression). The program incorporates sessions of 30 minutes to 1 hour for each area per day based on a weekly theme that supports self-motivated learning of young children by providing them new vocabulary in each session.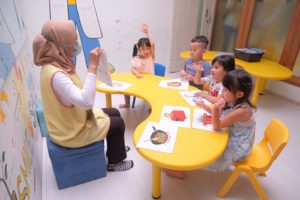 Outline of WALLET
The following five abilities are the five basic components of WALLET. The aim is to encourage children to be self-motivated learners while "laughing (smiling and having fun)."
① Watching/Writing (learning through watching and writing)
② Activating (behavior/senses)
③ Listening (learning through listening)
④ Expressing (expression/presentation)
⑤ Thinking (thought/imagination)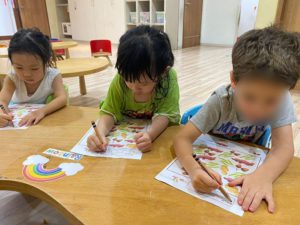 Original learning materials
Development and management of "clue cards" in relation to the WALLET program. To encourage learning new vocabulary, there are six categories of everyday objects based on local life, including familiar plants/animals, vehicles and foods (people, nature, plants/animals, foods, vehicles, daily life). One theme is selected each week for daily input learning. For instance, during the nature category week, the themes were soil, stone and sand. In addition to inputting related vocabulary, on daycare activity day with the "Expressing (expression/presentation)" component, the children freely painted pictures of the sea, while the sandy beach was created using actual sand prepared in advance by the teacher.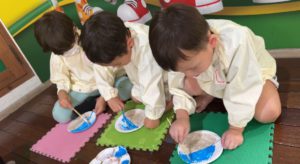 2. Activities-learned and shared from Starchild in Japan
In October, one member of daycare staff from the Jakarta nursery visited the Starchild in Japan on a business trip where she took the lead in part of the educational program. Experiencing the all-encompassing nature of this job at the Japanese workplace was incredibly valuable for the staff member and it also presented the opportunity for skills improvement. We are planning to hold similar hands-on training sessions once or twice a year from now on.
In addition to holding regular weekly meetings, we share footage with Starchild in Japan that shows interaction with the nursery children, the progress of education programs, and general nursery management. Starchild Japan then provides us with valuable advice.
3. Daycare license acquisition and renewal
In addition to developing numerous nursery businesses, Human Starchild, a Japan-based Human Group company, has developed the HQS (HOIKU Quality Standard) license in order to maintain and further improve the quality of daycare by providing daycare service quality audits, training and consultations for overseas businesses. Starchild Indonesia acquired the HQS license in 2019, which was renewed in the following audit at the end of 2022. The Japan-quality daycare at our nursery has a strong reputation in Jakarta, leading to inquiries from other nurseries in the city for advice. Based on safe and reliable daycare services and operational know-hows acquired in Japan over a period of more than 30 years, as well as the staff training know-hows, we will establish a safe environment in the local community so that each and every child can live a safe and energetic life.
4. Future prospects
By means of hands-on training and by sharing practices from Starchild in Japan, we will continue to deepen the learning of daycare providers in Indonesia. Also, through the expanded uptake of the HQS license, we hope that we can expand Japanese-style daycare beyond Jakarta to the entire country of Indonesia.