In Sri Lanka, schools had been closed for a long time due to COVID-19, and various issues such as delayed learning have been raised. To introduce the challenges of education under COVID-19 and the significance of using digital technology, SuRaLa Net, together with its partner company Next Learners, held a seminar titled "How schools can overcome a turning point under COVID-19 era" on September 4, 2021.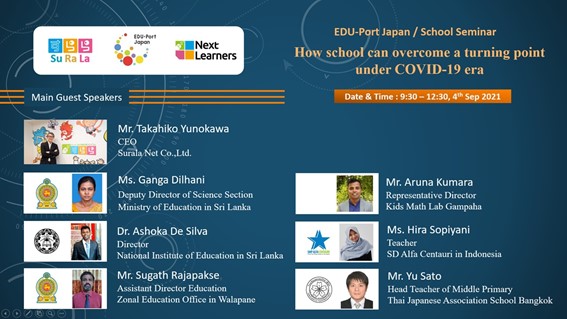 Prior to the seminar, we conducted a questionnaire survey in Sri Lanka (178 respondents) for teachers in public and private schools. From the questionnaire, it became clear that the quality of education is a concern, especially in the three areas of checking students' understanding and keeping them motivated, checking and evaluating their progress appropriately, and providing support to students with challenges, as group-based online classes are the main method.
On the day of the seminar, first, Dr. Ashoka De Silva, Director, National Institute of Education in Sri Lanka, illustrated the wide range of issues caused by the school closure, and various public initiatives to support home learning.
Secondly, Mr. Sugath Rajapakse, Assistant Director of Education, Zonal Education Office, Walapane, presented how technology can be utilized to tackle current issues, especially appropriate evaluation of students' academic ability.
Thereafter, three practices using e-learning were introduced by speakers from Sri Lanka, Indonesia, and Japan. From Sri Lanka, Mr. Aruna Kumara, Representative Director, Kids Math Lab Gampaha, took the stage and introduced the operation of a tuition school that utilizes data from an e-learning system. As online group classes continue and concern for the level of individual students' mastery has been raised, Kids Math Lab Gampaha is using learning data such as the percentage of correct answers and study time to pay attention to individual students and improve their academic performance.
From Indonesia, Ms. Hira Sopiyani, Teacher of SD Alfa Centauri joined to explained that she raises motivation of students to learn by adjusting the learning contents to each student's situation through checking the data on students' learning status, giving awards to students who have made a certain level of progress, and providing individual support to students who are behind in their learning.
Lastly, Mr. Yu Sato, Head Teacher of Middle Primary, Thai Japanese Association School Bangkok, shared the practice of utilizing on-demand and real-time classes to develop students' abilities. At the beginning of the school closure, the main method was on on-demand learning where students can learn at their own pace, and from 2021, when the devices were available to all students, the method shifted to real-time learning. In consideration of the developmental stage of the students, learning for lower grade students is designed with simple PC operations, and as the students advance in grade, they can choose their own tasks and have opportunities to interact with other students online.
A total of 95 participants, 43 from 28 public schools and 52 from 25 private schools from different parts of Sri Lanka, attended the online seminar to deepen their understanding of the solutions to the problems faced in distance education and new ideas for the future of education. After the event, we received comments such as "I was able to learn information that I need to know right now" and "This was a valuable opportunity for me to learn about the situation overseas like Japan and Indonesia.
As the gap in learning progress has been widened during the school closure period, more individualized education will be required to make up for the lag in learning. Through the dissemination of e-learning, SuRaLa Net will continue to contribute to the improvement of the quality of education and the growth of children's academic abilities.
(People in photo below from left)
Dr. Ashoka De Silva, Director, National Institute of Education in Sri Lanka
Ms. Hira Sopiyani, Teacher of SD Alfa Centauri, Indonesia
Mr. Yu Sato, Head Teacher of Middle Primary, Thai Japanese Association School Bangkok